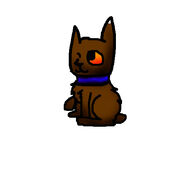 Purple is a malebrown doberman with an underbite and orange eyes.
Purple's parents are unknown. He later turns traitor on Star's pack and kills a pack member, but Lola avenges him by killing Purple.
Residence
Edit
Current: Dark Alley
Past: 1st, Dogpack, 2nd, Darkpack
Purple is killed by Lola, who is avenging Rock, a dog killed by Purple after he betrays Dogpack and joins Darkpack.