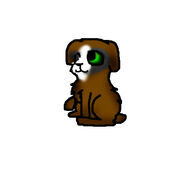 Lola is a large, ruffle furred, fawn, broad shouldered she-boxer with green eyes.
Lola's parents were unknown, and most likely deceased. She, like Star, is very loyal and trusted in the pack.
Spoiler warning!
This article contains plot details about an upcoming episode.

Lola falls into ice and cannot get out of under the ice sheet. She eventually drowns in the icey cold water.
Residence
Edit
Current: Starpack
Past: Dogpack