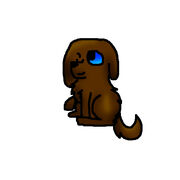 Alphie is less-muscled, brown, blue eyed, dachshund.
Believe it or not, Alphie is Pizzano and Aly's son. He kept it a secret until he was killed by a badger.
Residence
Edit
Current: Starpack
Past: Dogpack
Alphie was mauled by a honey badger after he tried to scare them of the Abandoned alley. Lola tries to save him, but it was too late.
Ad blocker interference detected!
Wikia is a free-to-use site that makes money from advertising. We have a modified experience for viewers using ad blockers

Wikia is not accessible if you've made further modifications. Remove the custom ad blocker rule(s) and the page will load as expected.